3D Tightrope
Giới thiệu 3D Tightrope
3D tightrope is a trivial game. In this game you need to control the balance of the characters to help him move forward. There will be some monsters appear on the way, you can skip or attack it. There also will be strong winds blowing through, you need to swing the phone to make the character balance. Let us experience the fun of this game.
Game Features:
1.The game has theme in gravity sensor.
2.If you reach the highest point, you can share with friends.
Game Guide:
1.Notice the balancing pole. To keep the pole in the green range, the character will move forward.
2.When the pole in the red zone, the character cannot skip the monster or attack it.
3.When the wind comes, you need to quickly correct the balance of the character.
Hình ảnh 3D Tightrope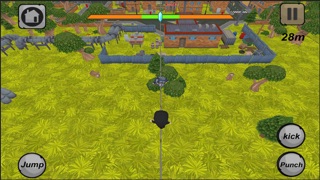 Thiết bị hỗ trợ
[symple_accordion title="Xem thiết bị hỗ trợ Game này"]
[symple_accordion_section]
iPhone3GS-iPhone-3GS,iPadWifi-iPadWifi,iPad3G-iPad3G,iPodTouchThirdGen-iPodTouchThirdGen,iPhone4-iPhone4,iPodTouchFourthGen-iPodTouchFourthGen,iPad2Wifi-iPad2Wifi,iPad23G-iPad23G,iPhone4S-iPhone4S,iPadThirdGen-iPadThirdGen,iPadThirdGen4G-iPadThirdGen4G,iPhone5-iPhone5,iPodTouchFifthGen-iPodTouchFifthGen,iPadFourthGen-iPadFourthGen,iPadFourthGen4G-iPadFourthGen4G,iPadMini-iPadMini,iPadMini4G-iPadMini4G,iPhone5c-iPhone5c,iPhone5s-iPhone5s,iPadAir-iPadAir,iPadAirCellular-iPadAirCellular,iPadMiniRetina-iPadMiniRetina,iPadMiniRetinaCellular-iPadMiniRetinaCellular,iPhone6-iPhone6,iPhone6Plus-iPhone6Plus,iPadAir2-iPadAir2,iPadAir2Cellular-iPadAir2Cellular,iPadMini3-iPadMini3,iPadMini3Cellular-iPadMini3Cellular,iPodTouchSixthGen-iPodTouchSixthGen,iPhone6s-iPhone6s,iPhone6sPlus-iPhone6sPlus,iPadMini4-iPadMini4,iPadMini4Cellular-iPadMini4Cellular,iPadPro-iPadPro,iPadProCellular-iPadProCellular,iPadPro97-iPadPro97,iPadPro97Cellular-iPadPro97Cellular,iPhoneSE-iPhoneSE,iPhone7-iPhone7,iPhone7Plus-iPhone7Plus,iPad611-iPad611,iPad612-iPad612,iPad71-iPad71,iPad72-iPad72,iPad73-iPad73,iPad74-iPad74,iPhone8-iPhone8,iPhone8Plus-iPhone8Plus,iPhoneX-iPhoneX,iPad75-iPad75,iPad76-iPad76,iPhoneXS-iPhoneXS,iPhoneXSMax-iPhoneXSMax,iPhoneXR-iPhoneXR,iPad812-iPad812,iPad834-iPad834,iPad856-iPad856,iPad878-iPad878.
[/symple_accordion_section]
Thông tin bổ sung
File Size: 79,796.00 MB
Phiên bản: 1.0
Đánh giá:
Tổng đánh giá:
Ngày cập nhật: 2014-07-26 23:22:40
 
Tải 3D Tightrope